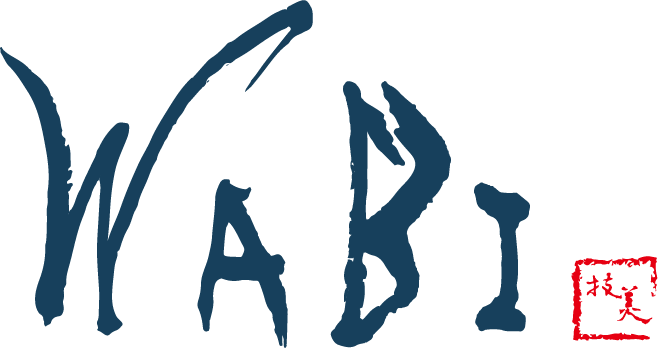 Kimono, Boundless and cultural Asset toward modern life.
Diverse colors, shapes and patterns inspired by kimonos and Japanese culture, upcycling and transforming from tradition and from the past.
Japan has long tradition and accumulated technology. Japanese kimono has its beauty that transcends the times and borders.
There are unlimited patterns, colors, materials and techniques.

We make this excellent culture more accessible.
The vivid Japanese beauty is reviving now.
ART
We match selected materials such as genuine leather, silk inner cloth, and braids with different vintage kimono and put patterns together.
SUSTAINING
We carefully work vintage kimono's that were asleep without being worn and tailor them into bags and accessories by hands.
CRAFTMANSHIP
We elaborate various processes on delicate kimono's fabrics and sew one by one into a strong and beautiful bag.
CONCEPT
Rooted in ancient Japanese principals, techniques and aesthetics,
WABI's inspiration comes from the exquisite colors, shapes and patterns of Japanese kimonos and culture.
Each of WABI's piece is handcrafted in Japan as a one of a kind collection that revives traditional kimonos and updates their style to create a dialog throughout the world.
Upcycling, ethical and consideration of manufacturing for SDGS. We modernize the past generation's assets and hope that it will be inherited by the next generation along sustainable way.
Our Path
-MIPEL Milano Trend Area selected 2020.Feb
-Maison et Objets Paris 2020.Jan
-Japan Ministry of Economy, 2020 selected Universal design company
Patent
LANTERN BAG International
<US, EU, JAPAN,China>
Patent No. 970039261
ORIGIN
WABI Creative director Makiko Niimura,
Former film producer , buying films at four major overseas film festivals and travelled around the world, interacting with creative individuals, she realized they shared a fascination for Japanese aesthetics.
At the same time, Niimura was intrigued by the limited exposure these beautiful designs had to Western cultures, and hence her vision was born.
a fashion accessories brand based on Japanese kimono and culture along traditional crafts and manufacturing.